What do Jeff Goldblum, Desperate Housewives and Raf Simons all have in common? Why, it's Ms. Miuccia Prada. Set at the Foundation in Milan, Prada's F/W 2022 Menswear collection exhibits a series of garments valorizing the concept of purpose. Titled, 'Body of Work,' the series antennas into a cinema and theater of the everyday. Fashion, a theatrical sentiment of the sartorial complex, pushes valor and rigor onto the body, enhancing the stoic nature of reality. Prada's cast also enlivens this field.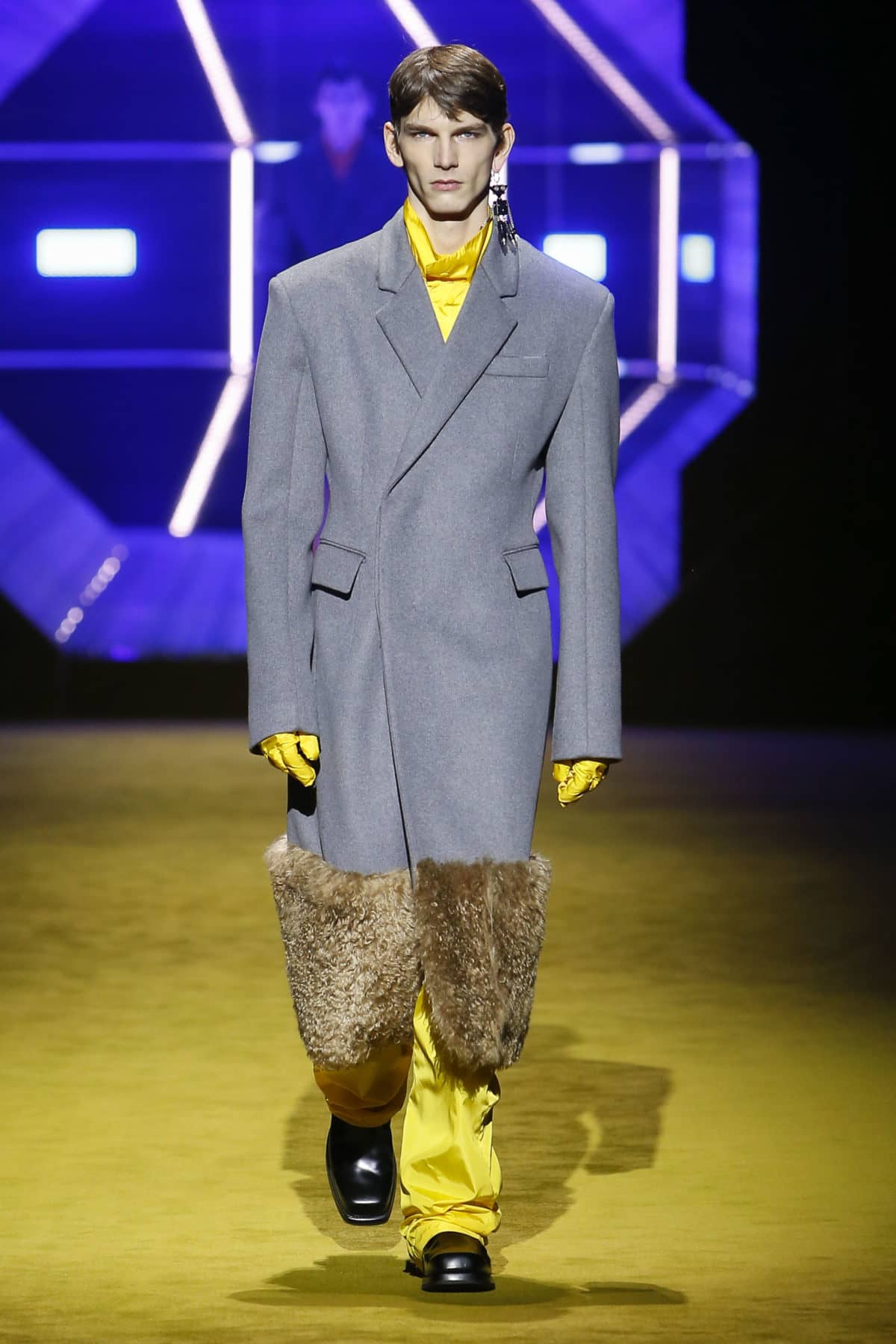 The choice of models for this collection reminisces on the star-studded catwalk brought together for the "brand's Menswear Fall 2012 collection featuring William Dafoe, Gary Oldman, Tim Roth, Jamie Bell, and Adrien Brody," as noted by Vogue Runway writer, Luke Leitch. Designed as a 'parody of manpower,' this runway was a hot-take on the way one adds rank to the everyday. From actors cosplaying humans to fashion cosplaying the didactic purpose of what we know as 'clothing,' a bit of fantasy makes the world go round. Also in 2012, Hannah Rosen released her book named after a 2010 article she wrote for The Atlantic titled, 'The End of Men.'
Ten years later – springing into another era of patriarchal uplift – Prada's audience is once again asked to note the influence of men in fashion, art, music and culture at large. "The approach is to make all garments equally important," said Simons. In collaboration with Ms. Prada, the designers stage a successful matinee of the often contradictory mechanism known as masculinity. 'Body Of Work' cleverly accentuates the challenges against manhood today. From toxicity to vulnerability – yellow mohair gleans brightly at the hem of a sharply-shaped overcoat. These colorful details soften the male of yester by declining his cloak of invisibility for something more inviting, more agile. In this age of lockdown and uncertainty, even the most rigid of men can be found yearning for connection and the chance to be seen. Prada's careful orientation urges a utility of style not dissimilar to how the last years have made humans all a bit cooler, a bit softer and eager to live in a world redefined.